Episode 3:  Today, President and CEO of the World Trade Center Kentucky Dr. Omar Ayyash interviews Alan Black, Regulatory Affairs Leader at Valvoline Global Operations.  Alan has extensive experience in international freight issues and will share his perspectives with us.
Meet Alan Black
Alan began his career at FedEx.  He worked in their international operations and then moved to corporate where he started FedEx's Global Compliance Group.  While at FedEx he worked heavily with various government agencies including US Customs and USDA.  Currently, he handles product regulatory matters for Valvoline Global.  He's involved in importing and exporting of various Valvoline products.
Dr. Ayyash briefly discusses an WTCKY event that took place earlier today.   It was the Global Executive Forum.  The keynote speaker was Jamal Muashsher, President and CEO of Valvoline Global Operations.  The title of his presentation was, "Journey from American Brand to Global Icon."
During the Forum, WTCKY Board Member Mary NeCamp, Kentucky Cabinet for Economic Development Program Manager and State Trade Expansion Program (STEP) Director highlighted Governor Beshear's proclamation of International Export Day.  This was an opportunity to remind the audience of Kentucky's $34B+ of exports, last year alone.
Kentucky Is a Serious Player in Freight
Dr. Ayyash and Alan often talk about how Kentucky's infrastructure presents an advantage in terms of options, capabilities and modalities.  The UPS World Hub is located in Louisville.  We have a significant DHL center in northern Kentucky.  FedEx has major shipping operations in both Indianapolis and Memphis, which are easily accessible for Kentucky companies.
Alan also points out Kentucky's freight infrastructure which includes air, multiple interstates, river access and extensive rail system.  Louisville is a significant freight hub for the region.
Valvoline has a significant freight operation.  While Valvoline doesn't import an enormous amount of material, it's a significant exporter.  He points out that everything they send abroad will have to be imported.  Understanding the documentation requirements, packaging requirements and product-regulatory issues are vital to any company intent on doing business on an international or global scale.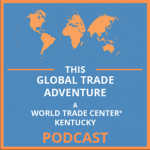 A Day in the Life
Alan's first task each morning is to scan any issues related to China and Europe.  Disruptions, emergencies, and various unforeseen issues can have a significant impact on the operations.  Later in the morning he'll spend time working with his US team to help ensure freight shipments are proceeding according to plan.
On a bi-weekly basis, Alan has conference calls with his China team.  He mentions how they work to accommodate various time changes.  Time zone issue are a factor for any company involved in international business.  Interactions with China-based and Australian-based contacts may require significant activity during the evening or night to keep the communication flowing on a consistent basis.
During our conversation with Marco Blankenburgh in Episode 2, we discussed the need for US companies to prepare for the real requirements (such as early mornings and/or late nights) of doing business on a global basis.
Freight Challenges in the Recent Past and Present
Alan discusses the fact that the global environment has been challenging during the past several years.  We've had trade wars, the COVID pandemic, supply chain issues, lack of shipping containers and more.  In his words, "It's been chaos."
When an international shipment gets delayed, often the shipping documentation needs to be updated.  Adjustments in schedules and other factors have to be considered.
Incoterms
Imagine shipping on a global basis to ports and countries each having their own way of doing things.  Local customs, capabilities, requirements and other issues can make it a very daunting challenge.
Thus, we have something called, Incoterms.  These are a set of internationally recognized rules defining which party is responsible for which facets of the transaction.  They are meant to help to standardize the process for everyone involved.
Dr. Ayyash and Alan discuss how incoterms can impact an exporter's ability to track a shipment.  Alan explains how different global customers want to handle the shipments in various ways.  Some prefer to pick it up at the exporter's dock (i.e. ex works) and handle the shipment process on their own.  However, this can present a problem for the exporter.  It limits the ability of the company to track and/or trace the shipment, because it's now out of their hands.
To avoid potential disruptions in the overall exporting process, Valvoline Global tries to limit ex works transactions to less than container load quantities.  They prefer to ship full container loads and use FCA.  Valvoline will handle the documentation.  This enables Valvoline Global and its freight forwarder to maintain some level of control, including tracking.  Oftentimes, because of the shipping infrastructure and processes already in place, it can actually be cheaper.
Alan references FCA and DDP.  FCA stands for Free Carrier.  This means the has to deliver it to a specified destination.  DDP stands for Delivery Duty Paid.  Under this term, the shipper is responsible for fees and risks until the shipment is delivered.
In general, Alan explains they prefer to handle exporting the shipment to the destination and having the distributor/customer handle the importing the shipment from that point.
Choosing the Right Partner
This is a very important consideration when it comes to exporting products on an international or global basis.  Alan discusses why it's important to have an experienced freight forwarder.  Technology can provide both real-time information and as sense of control over the process.  Think about how you track a UPS or FedEx package.  Knowing where that package is can be extremely important.
WTCKY's Premier International Trade Certification Program
Dr. Ayyash notes that Alan has been extremely involved in the WTCKY Trade Certification Program.  It's a 3-day program.  Alan has been a participant, speaker and facilitator.  Alan goes on to explain the advantages of getting involved in this specialized program.  Valvoline Global consistently sends professionals to the Trade Certification Program, because they recognize the tremendous value it provides.
The Importance of Developing Cross-Cultural Skills 
Alan shares his view regarding the importance of developing cross-cultural skills if you're going to engage in international trade.  Alan recounts a book he read about the various customs you encounter, beginning with the simple way to politely greet the other person.
Alan emphasizes the fact that successful business often comes down to your ability to develop strong relationships.  Being sensitive to how you interact with people from different cultures and traditions is a good place to begin.  It's important to make an effort to learn about the other person and their points of reference, even before you meet for the first time.
The World Trade Center Kentucky, in partnership with Knowledgeworkx, created a program focusing on the topic of Cultural Agility.  This was discussed in Episode 2.  A link to information about this program is provided below, in the Upcoming WTCKY Events section.  Dr. Ayyash briefly discusses this program for the listeners.
Managing Trade Barriers
Alan contents with this issue on a regular basis.  He comments on the challenge of finding the proper information about the required documentation.  In certain regions of the world it can be difficult to find this information without having someone on the ground.  This can facilitate the communication process.
Details such as the placement of labels, the language requirements and other issues can act like trade barriers because the requirements may not be available online.
Another aspect of trade barriers involves regulatory requirements.  Alan comments specifically on the chemical regulations.  These may require a manufacturer to produce the product overseas to avoid restrictive regulations, fees and testing requirements.
Keeping track of what is specifically required can be extremely complex.  Valvoline Global's solution is to have people located in-country who can facilitate the flow of information and updates to that information.  It would be very difficult to try to do that from an office in the US.
"We Grow Trade"
This is the mantra for the World Trade Center Kentucky.  Dr. Ayyash explains that the programs, information, contacts and expertise provided to members of the WTCKY is what makes them a valuable partner in this global trade adventure.
The Impact of Infrastructure on International Freight
Dr. Ayyash asks Alan about his perspective in regard to infrastructure.  Alan comments that everything is going to continue evolving.  Factors such as Artificial Intelligence (AI) can potentially have a significant impact on how we'll manage international freight in the future.
The transition to electric vehicles and other technologies will also impact international freight.  Unfortunately, according to Alan, the US faces various challenges related to its infrastructure.  Current ports, railways and highway systems are going to struggle to increased demand usage.  We have work to do.
Alan comments on the level of infrastructure investments has greatly benefitted Dubai in its ability to service its region, including the Middle East and Africa.
Dr. Ayyash uses this to mention the upcoming Dubai Trade Mission in October.  Details are provided, via the below link.
Contact Alan Black at Valvoline Global Operations
Website:         https://www.valvolineglobal.com/en/
Email:             AwBlack@ValvolineGlobal.com
Upcoming WTCKY EVENTS:
The next episode of our podcast will launch on 9/11/23.  Thank you for listening.  Be sure to follow This Global Trade Adventure on your favorite podcast platform, or at www.WTCKY.com/podcast.
We hope you enjoyed Episode 2.  Our schedule is to publish a new episode on the 2nd Monday of each month.
Please consider sharing this with your colleagues.  Until next time, thank you for listening and welcome to This Global Trade Adventure.