Education that is relevant, current, and useful is at the core of WTC-KY missions. Focused on providing quality programming, the International Education Center strives to assist Kentucky enterprises to develop a highly qualified and globally competitive workforce. Our goal is to build the capacity to conduct trade at all levels of an organization. From the university classroom to the factory warehouse, from the sales floor to the corporate board room, the International Education Center has something for everyone.
Finding and developing your workforce can be challenging for global companies.  We offer our training off-site at locations across Kentucky and we can schedule on-site training on topics specific to your company.  If you are hiring new employees or wanting to train existing ones, the World Trade Center Kentucky is an excellent training partner to develop specific trade skills including cultural awareness. Our Training Request Form is a great way to help us understand your company's training needs.  Download a copy by clicking here.  If you have questions, contact Omar Ayyash, President.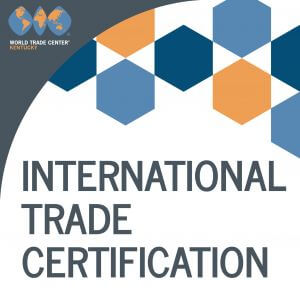 International Trade Certification
Built specifically for the trade practitioner, this three day program, which leads to the certification of International Commerce Specialist, is taught by local experts from banking, tax, legal, customs compliance, market intelligence, freight forwarding, customs brokerage and government. Participants must score 70% or higher on an on-line examination in order to receive their certificate. The skills and knowledge gained from this certification program will provide the foundation for effective and efficient management of a company's international trade operations. Our certification is recognized nationally by the National Customs Broker and Freight Forwarders Association.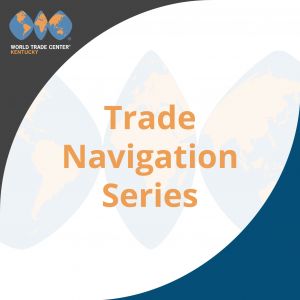 Trade Navigation Series
Our Trade Navigation Series breaks out the core skills and components needed to successfully conduct global commerce. Sessions cover a broad range of topics varying from NAFTA to trade finance and international tax to tariff code classifications. Programming also includes our Export 101 and Import 101 sessions which provide a case study on how one can practically apply skills learned throughout our the series. The Center recruits the top subject matter experts to present for all seminars.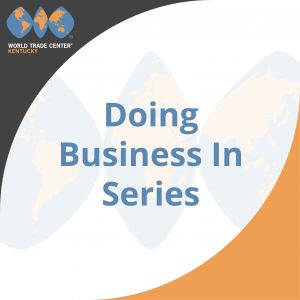 Doing Business In:
As global business continues to expand and bring everyone closer, the critical element of a successful business outcome may be the appreciation and respect for regional, country, and cultural differences. Cultural diversity and requiring good intercultural communication is critical to securing business partners and closing business deals. In the International Business Etiquette and Culture Series, participants will find a wealth of information and resources on international business etiquette and manners to utilize during their international travels and overseas assignments.
Training Catalog
We are proud to offer a training catalog that hosts recordings of our previous education opportunities. The catalog encompasses our Trade Chats, Trade Navigation Series, Doing Business in Series, and Global Executive Forum. Offered as on-demand videos, this is a self-paced option to explore our programming. PDFs of the presentations are also available upon email request. Click here to view our training catalog.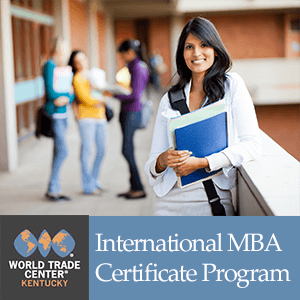 International MBA Certification
Educating our next generation of business leaders to "think global" is critical for Kentucky to remain competitive in today's global economy. The International MBA Certificate program provides graduate level students an introduction to key elements of international policy, business, logistics, marketing, finance and law. Lecturers are professional practitioners in their field and bring real world experience and insight to each discussion.
Need guidance on your latest trade endeavor? WTC-KY has gathered resources  from the best in the business. Several organizations offer free online training  resources specific to the trade practitioner. To view a variety of webinars and  other training resources on international trade, please click here to explore our  free-of-charge resource tools.