Episode 4:  Today, Dr. Omar Ayyash, President and CEO of the World Trade Center Kentucky interviews Michael Bowling, Managing Partner at Global Altitudes, LLC.  Michael has had extensive experience doing business in Latin America.  He's going to share some timely perspectives on why this region presents some interesting opportunities.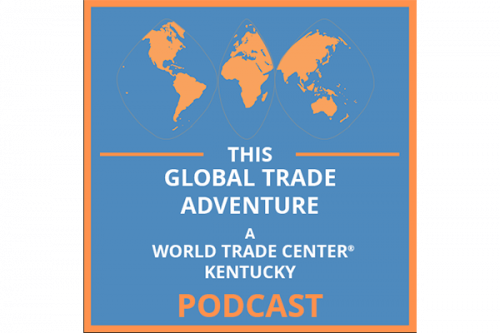 Meet Michael Bowling
Michael was born and raised in Madisonville, Kentucky and is a University of Kentucky alumnus.  He began his career at Bell South and AT&T, which launched his global career path.  He's lived in Mexico City, Lima Peru, Bogotá Columbia and has been involved in projects in Venezuela and Chile.  He became the CEO of AT&T's South America Entertainment Division.
While at Bell South, the company realized an opportunity to build a cellular network in South America.  He worked on various projects in Venezuela and Chile.  During that time, he was promoted to the role of Chief Marketing Officer for Bell South Peru.
Later, he took on a role as President of AT&T Mexico.  He was promoted to the Chief Marketing Officer for the Business Division ($37B P&L) and ran corporate strategy for AT&T.  Michael eventually ended up running the Direct TV Latin America Group, while living in Bogotá Columbia.  It's been quite the international career path and he's not finished, yet.
Adventures, Experiences and Challenges Along the Way
Depending upon your mindset and resiliency, people find global business extremely challenging or exhilarating.  Fortunately, Michael is the latter.  His first role in Lima was as the head of marketing and he was given the goal of completely turning around and restructuring the business.
It was his first international role during which he lived abroad.  He quickly realized the importance of understanding the local culture in which you intend to do business.  He needed to learn to adapt to Peru, rather than expecting Peruvian business people and citizens to adapt to his North American perspectives.  He tells a story of how the typical North American custom of starting a meeting on time wouldn't necessarily work in Latin America.  So, he learned to adapt.  The focus on punctuality is less important that the focus on relationships and life, in general. It's a critical understanding for US executives when doing business in Latin America.
Entering an Emerging Market
Dr. Ayyash asks Michael how he managed introducing a North American product/service, with its inherent cost structures, into Peru.  Michael begins by noting the importance of thinking and operating in an unconventional way.  This is extremely important in an emerging market.
He offers the example of his unit's early attempts to sell digital TV service, using the traditional method used in the US.  For the upper socio-economic demographic, that may work.  However, it's extremely difficult in the mid- to lower-demographic strata.  While we think it normal to bill a household's credit card for the monthly service, the majority of people in the mass-market don't have credit cards.  They may not even be able to afford a full month's subscription
Michael and his team developed a pre-paid TV service as an innovative approach to growing market share, if they were to continue doing business in Latin America.  It worked.  In an interesting insight, he learned is that it was really a matter of available cash, not simply a matter of competition among competing brands.
This pivot enabled Michael and his team to compete in a market of 6MM people who were open to a pre-paid TV service.  As a result, he's group was able to significantly grow market share and revenue in this emerging market.  Lesson learned.
Michael identified a challenge in finding/motivating people to recharge the pre-paid card to buy TV service.  The group executed a successful strategy by recognizing the affinity the market had for fútbol (e.g. soccer).  The company negotiated the rights to carry the Latin American fútbol matches with many of the most popular teams and leagues.  It helped them to promote the pre-paid TV service.
With any level of success, there will also be failures.  Michael shared one such failure.  Initially, they through they could introduce the standard US arrangement of allowing the company to install the equipment and then bill for it later.  Again, most of the households didn't have credit cards and there wasn't a reliable system of credit and/or background checks.  Much of the equipment they installed up front was never paid for and, not surprisingly, not recovered.  Once again, lesson learned.
Adapting US Marketing Strategies and Paradigms to a New Market
Michael begins with 2 primary insights.  First, you have to figure out how to understand the target market.  Second, you need to understand the importance of trusting and empowering your local team to know the environment better that you and your US-based colleagues.  They have important perspectives and feedback that will help you succeed, in spite of your blind spots related to doing business in Latin America.
Michael goes on to share that international experience will alter how you manage as a leader.  It's invaluable.  In fact, he mentions that 60-70% of Fortune 100 CEOs have some level of global experience.
Dr. Ayyash has extensive experience in the Middle East.  He finds it interesting how quickly decisions can be made in that region.  He gives the example of some needed infrastructure projects in Dubai.  They were identified, implemented and completed at an astounding pace.
Michael relates how a US executive once commented at how quickly the strategies and plans tended to change in Latin America.  Michael relates it to fútbol vs. football.  The US is a relatively stable environment, so like a football coach, we have the luxury of running a few plays, assessing the effectiveness, making some adjustments and then continuing on with the game plan (e.g. a 5-yr business strategy).  In Latin America, it's more like a fútbol match in that it's much more fluid, due to the nature of the business/social environment.
For instance, Argentina's inflation rate is 100% per year.  If you don't adapt or completely change your strategy, your earnings can change dramatically. Currency and economic issue remain a critical factor for any US-based company doing business in Latin America.
The Global Manufacturing Shift
Omar asks Michael to comment on how things are changing relative to China's position as the world's factory.  In 2019, Michael recognized the trend toward near-shoring.  Mexico was developing its manufacturing base with the help of foreign direct investment.  NAFTA evolved into the USMCA, providing additional stabilization.
With on onset of the COVID pandemic, supply chains began to feel the stress of having so much distance risking gaps in anticipated deliveries and product availability.
Michael points out a McKinsey study highlighting the necessity for companies to begin adapt and pivot toward how they view supply chain resilience and the partners included therein.  One chart notes, "Most companies are planning significant changes to their inventory management strategies."  Michael interprets this as a move toward near-shoring, emphasizing regional partners more so than global partners.  Obviously, for a US-based company that could mean developing partnerships is Latin America to replace or augment those based in mainland China.
Michael and Dr. Ayyash teach a global management class, together, at the University of Kentucky's Gatton College of Business and Economics.  They created an Americas Initiative focused on recruiting Latin American students to attend UK.  At the same time, it targets opportunities for UK students to study abroad in Latin America.
The World Trade Center of Kentucky has partnered with the Gatton school for a number of years.  Together, they've developed workshops on supply chain and have assisted MBA students to focus on the importance of cross-cultural understanding.
In a recent discussion, involving a number of JD-students, they explored the differences in approaches to business.  While the US tends to be very focused on the contract language and related enforcement, global cultures are much more comfortable operating "in the gray."
Where Is Michael Focused These Days?
Michael's last role at AT&T had the goal of actually selling the Latin American Entertainment Division.  Once that was completed, he founded a company called Global Altitudes, LLC.  Its focus is identifying business opportunities "at the crossroads of the Americas."
He's currently helping a Mexican company to bring satellite infrastructure to rural based consumers.  He has another US-based client in the medical imaging space.  While they navigate the FDA approval process, they are exploring opportunities to move forward in Latin America and to begin medical trials.  He's open to working with other companies interested in entering and competing in the region.
Views on Kentucky's Future in International Trade
Michael comments on how far Kentucky has come, thus far.  He thinks the future is very bright for Kentucky, especially in the Americas.  People often fail to realize the Americas, as a region, has over 1 billion people.  Our hemisphere has a tremendous abundance of natural resources, energy, agriculture and more.  Kentucky is poised to play a significant role in the growth of international trade, particularly in Latin Americas and the Americas.
Words of Advice for Developing an International Career
Omar asks Michael to share some advice for someone who is interested in pursuing a global business career.  Michael begins by admitting, you simply have to jump in.  Get that first exposure and learn from the experience.  Michael's first experience was an international trip during his MBA program.  He credits that with changing both is life and his career path.
In his spare time, Michael has combined his love for travel and running.  He wants to run a marathon on 7 continents.  To date, he has 2 to go (Asia and Antarctica).  We wish him luck as he moves closer to achieving another goal.
Interested in Learning More?
Michael's Website:  https://globalaltitudes.com/
We'd like to thank our guest, Michael Bowling, for sharing his time and perspectives with us.  What an adventure it's been.  Hopefully, this episode provided valuable information for you and your business.  Remember, at the World Trade Center Kentucky, we grow trade!
Upcoming WTCKY EVENTS:
The next episode of our podcast will launch on 10/09/23.  Thank you for listening.  Be sure to follow This Global Trade Adventure on your favorite podcast platform, or at www.WTCKY.com/podcast.
We hope you enjoyed Episode 4.  Our schedule is to publish a new episode on the 2nd Monday of each month.
Please consider sharing this with your colleagues.  Until next time, thank you for listening and welcome to This Global Trade Adventure.