Global Supply Chain Management
Episode 5:  Today, Dr. Omar Ayyash, President and CEO of the World Trade Center Kentucky interviews Brian Crilly, VP of International Supply Chain Management at Papa Johns, and Stephen Marks, Sr. VP of Supply at Givaudan Sense Colour.  These seasoned professionals will join us for a discussion of some of the issues and challenges companies are facing, as well as solutions, in regard to managing international supply chain responsibilities.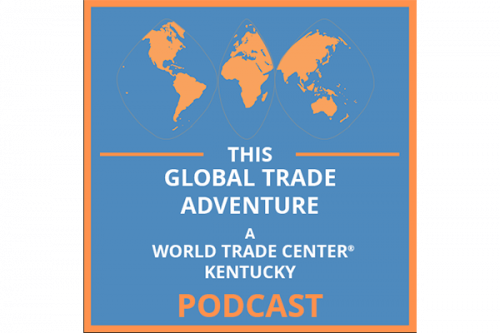 How Does Supply Chain Work in Practice?
Omar asks Steve to provide a quick overview of supply chain.  Steve mentions that this area of operations has significantly evolved over the past 10-15 years.  It's now an integration of multiple functions, including purchasing, logistics, finance and others.  The supply chain manager typically wears many hats.
Meet Steve Marks
Steve began his career in Purchasing for the Marriott Corporation.  He's spent 35 years in supply chain and roughly half of that time has been in the international space.  Over his career, he's worked with well-known brands such as Marriott, Burger King, Papa Johns and now Givaudan.
Meet Brian Crilly
Brian spent most of his career in distribution and manufacturing.  In 2023, he took on a role in supply chain focusing on the international side at Papa Johns.  He comments that it's been a very interesting, learning journey, thus far.
Supply Chain Management at Papa Johns
Brian provides a general overview of how this is structured at Papa Johns.  The US supply chain managers are category managers.  For example, they are subject matter experts in poultry, proteins, sauces, etc.  However, on the international-side of the business, the supply chain managers are regional experts.  Rather than focusing on specific products (e.g. ingredients), they are focused on the geographic regions, such as the Middle East, Latin America or Asia Pacific.
Steve mentions that he and Brian originally met while working at Papa Johns, 10 years ago.  At Givaudan, they are in the food manufacturing-side of the business.  Together, they will be able to provide full product life-cycle perspective of the food sector from the actual food manufacturing through distribution and to the ultimate delivery to the retail customer.
Preparing for a Role in International Supply Chain Management
Steve notes that many universities are offering degrees in supply chain management.  You could also start out in a functional role and move into the broader area, as both he and Brian previously did.  If you have an interest in international business, it's a great way to focus on the international-side of the role.
Brian comments that he's currently pursuing his MBA in global supply chain at Northern Kentucky University.  He also points out the value of establishing solid relationships with your suppliers, end-users, franchises, regulatory officials and others.  An effective manager realizes, it's critical that you have contacts and relationships all along the supply chain.
Day-to-Day Life for a Supply Chain Manager
Omar asks both guests to give us a glimpse into a typical day.  Brian's team is broken down into regions.  He has weekly meetings to discuss any local (i.e. regional) challenges that may be helped by their US-based support and influence. Typical issues could include registration of products, lead times, volume commitments and forecasting.  The regional specialists are working hard to support the franchises in their particular, global geographic markets.
Steve is responsible for supporting 10 different factories across 7 countries.  His division is relatively small, but his team supports all aspects of the supply chain for his company.  On any given day, they could be negotiation contracts, dealing with logistical issues, issuing purchase orders and more.  He's making sure his team has what they need to accomplish the objectives and timelines.  Some of the hours can be much earlier or much later due to the various time zones across the world.  This is something Alan Black with Valvoline Global mentioned in Episode 3.
Steve goes on to discuss the seasonality that impacts the items the company needs.  He pays careful attention to the growing seasons and harvesting times.  Weather conditions are constantly monitored determine what impact, if any, they might have on the process.  They spend considerable time analyzing agriculture reports from the USDA.  His company hedges its corn purchases because that is a significant input for his food manufacturing process.  This necessitates close communication and planning with finance team to forecast costs and other issues.
The Pandemic's Impact on the Supply Chain
Omar discusses how fortunate Kentucky is to have multiple logistics hubs, including UPS and DHL.  The World Trade Center of Kentucky spends a tremendous amount of time and effort assisting its members in this area.  Nevertheless, the last 2 years have experienced increased supply chain issue related to the pandemic.
Steve discusses how the ocean freight rates have been significantly impacted.  Givaudan, is involved in both importing and exporting.  The company imports from roughly 20 countries.  Much of their product is then re-exported.
Steve specifically mentions the value of the Duty Drawback advising provided by the World Trade Center Kentucky.  The products they import from China are hit with a 25% duty.  The WTCKY connected them with a consultant who is helping them to reclaim a portion of those duties.
For more information on the educational resources provide by the WTCKY, click below:
Steve's team also works closely with CSX to ship in glucose via rail lines.  During the same time everyone was dealing with the pandemic, CSX workers were threatening to strike.  It really emphasized the dependence many US companies have on rail-based freight.  Again, this is another issue that can impact the reliability of our supply chain.
Brian explains how the pandemic taught them a number of important lessons.  Reliable forecasting and lead times are particularly important to Papa Johns as many of their items are perishable.  Making sure they have the proper certifications for specific products being received or shipped is vital.  A delay in customs can negate the work they did in forecasting and lead time management.  The pandemic cause gaps in their supply chain.  Fortunately, they are in a much better position moving forward.
Serving on the WTCKY Board
Omar asks Steve to comment on his experience as a Board Member.  This is actually his second time serving on the Board of Directors.  In his current iteration, he's the Chair of the Membership Committee.   He believes Kentucky has a tremendous growth potential in global trade.  He and the other members are focused on developing new and exciting reasons for Kentucky business leaders to get involved with the World Trade Center Kentucky.
In the Post-Pandemic Environment Will China Continue to be the World's Factory?
Steve comments on the number of companies that have begun moving operations out of China.  Many companies are reassessing their contingency arrangements to ensure the reliability of their supply chains.  Vietnam seems to be an area of focus for many of those companies who are leaving China, but still need to identify and establish cost-effective production opportunities.
Brian comments on how supply chain managers are shifting to a focus on continuity, even more so than on cost.  Shoring up the reliability of their supply chains to prevent gaps and other various disruptions.  Supply Chain now has a seat at the table in C-suites across the country and in other countries.  Steve concurs with that realization.
Brian notes that supply chain references rose 400% between 2020-2021 in earnings calls.  It's definitely a focus for shareholders.  Steve comments on how often the news is discussing supply chain issues.
The Impact of Supply Chain Gaps
Omar asks Brian to explain the issue with supply chain gaps.  Brian mentions that just-in-time inventory can be risky.  If there is a delay in getting the inventory to the factory, to the distributor or to the end customer, it will have serious, negative financial repercussions.  Companies are reassessing the value of having adequate surplus inventories vs. the capital cost required to maintain it.  He uses an example at Papa Johns.  If they were to run out of sauce or cheese, it would be a more important risk, than if they were to run out of black olives.  He uses this example to explain how some items in the supply chain are more critical than others.
Brian goes on to describe it as a delicate balance.  You don't want to have too much inventory on hand, but at the same time, you have to have a contingency level in place.  It's different for every country and in every market, but that's part of the focus on effective, global supply chain management.
While Brian's products have a shelf-life requiring refrigeration or other steps to ensure quality, the issue is a bit different for Steve.  Because Givaudan hedges purchases of bulk inputs, for seasonal buys sometimes a full year in advance.  As the economy slows, demand is dipping.  This is resulting in higher inventory levels in their system.  It's increasing the carrying cost of those inputs.  They are now looking at ways to begin reducing the inventory levels, without risking gaps in supply.
Steve offers a reminder in the value of finding and establishing those important business relationships.  It makes it much easier to work through business challenges when you understand the other people involve and there's already a level of trust that's been established along the way.
The WTCKY Is an Aggregator
Dr. Omar Ayyash comments about the strength of a relationship with the World Trade Center Kentucky.  There are currently 330 Trade Center spanning 91 countries.  We have established networks available to assist businesses who are interested in exploring international business or who are already in the area, but are looking for a better way to address challenges while continuing to grow.  Contact the World Trade Center Kentucky to discuss how we can help.
Steve and Brian both agree that there's a tremendous value in engaging the WTCKY and its resources.  You don't need to learn the hard way.  People are ready to lend expertise to assist you.
Upcoming WTCKY EVENTS:
The next episode of our podcast will launch on 11/13/23.  Thank you for listening.  Be sure to follow This Global Trade Adventure on your favorite podcast platform, or at www.WTCKY.com/podcast.
We hope you enjoyed Episode 5.  Our schedule is to publish a new episode on the 2nd Monday of each month.
Please consider sharing this with your colleagues.  Until next time, thank you for listening and welcome to This Global Trade Adventure.