Episode 6:  Today, Dr. Omar Ayyash, President and CEO of the World Trade Center Kentucky interviews Mark E. Klein, Managing Director, Lender Accounts for EXIM (the export-import bank of the United States).
Meet Mark Klein
Omar and Mark have known each other for many years.  Mark started in international banking in 2000.  After working with the international groups for Bank One and 5/3rd Bank, he joined the EXIM bank in 2010.
Mark has been involved with the World Trade Center Kentucky since 2000.  Mark was a member of the WTCKY Board of Directors, he was Chairman for the WTCKY Annual Dinner, he's also played a significant role in the International Trade Certification Program offered by the WTCKY.  Mark enjoys his continued involvement with this valuable program.  He normally presents on trade finance topics including letters of credit, international payment mechanisms and other areas of interest.
In 2022, Kentucky surpassed $34 Billion in exports.  Mark has played an integral role in helping Kentucky businesses to understand and to navigate the international banking and finance environment.  He admits most companies have never heard of the EXIM Bank.  The institution assists businesses in a variety of ways related to global trade.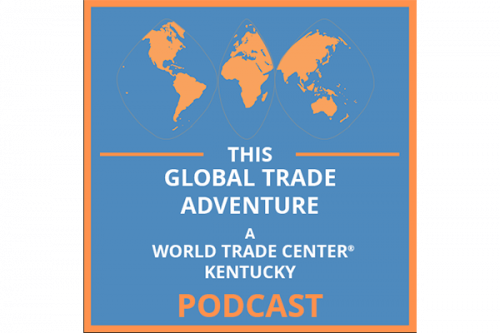 Foreign Accounts Receivable Insurance
This is one of the foundational services provided by EXIM.  Traditionally, companies involved in foreign trade assume the transactions either require cash in advance or an international letter of credit.  Foreign accounts receivable insurance enables a company to offer open credit terms, insured by EXIM.  It relieves the risk to the company exporting products and services.  Because you don't have to require the global customer to pay in advance, you have the ability to actually sell more.
There isn't really a project size requirement.  Mark explains who EXIM doesn't consider any transaction too large or too small.  The same goes for the size of the company requesting assistance and services from EXIM.  Interestingly, Mark works with many 1-2 person operations who are actively selling internationally.
What is the EXIM Bank?
The EXIM Bank is an executive branch, federal government agency, founded in 1934.  It mission is to assist in growing jobs through export activities.  EXIM likes to focus on products and services made in the US for sale abroad.
Mark explains the EXIM Bank was the financing arm behind the Marshall Plan.  They also helped to finance the Pan-American Highway.  They are often involved in global infrastructure projects.  The EXIM Bank is an Export Credit Agency (ECA).  Virtually every developing or emerging country has an ECA.  An export credit agency provides valuable access to capital.
Is the EXIM Bank Actually a Bank?
Actually, no.  During its inception in 1934, as part of the New Deal, many of the banks were broken or failing.  This new agency had to act more like a bank, at the time.  Initially, the EXIM Bank also helped US companies source foreign products and import them.  Over the years, the mission has come to focus primarily on US exports.
The Impact of China
Mark goes on to discuss China and it's 5-6 EXIM Banks.  Each year, China does more in export financing than the US EXIM Bank has done since its inception.  They are a goliath in this arena.  However, against other peers, such as Canada and UK, the US EXIM Bank performs well.
Dr. Ayyash comments how in Episode 4 and Episode 5 we discussed China's manufacturing sector.  Mark explains how EXIM is competing with China's financing.
The China Transformational Export Program (CTEP)
The CTEP program offers a means to help companies to secure financing, instead of using the Chinese EXIM Banks.  The program offers additional flexibility to help US companies to compete for global opportunities, even though it won't necessarily include the "crazy" financing rates China companies use.
Dr. Ayyash transitions the conversation to ways the World Trade Center Kentucky assists Kentucky companies.  The WTCKY has always been an aggregator, helping to connect our companies with valuable relationships and resources.  He asks Mark to comment on ways the EXIM Bank is helping Kentucky companies.
Mark begins by ensuring he's personally involved in various seminars and conferences to gain exposure to companies across the Commonwealth.  He brings 23 years of experience directly related to international banking, trade and finance.  He's a valuable resource, available to companies of all sizes.
How the EXIM Bank Helps Kentucky Companies
In addition to foreign accounts receivable insurance, the EXIM bank can assist with working capital to grow exports, capital equipment financing for buyers and other needs.  There's a Make More in America Initiative.  As a banker, Mark can educate Kentucky companies on letters of credit, foreign exchange, foreign banking accounts and more.  The idea is to help them to be better prepared and informed before they initiate discussions with commercial banks.
Words of Advice for Companies New to Exporting
Mark offers a few perspectives.  First, don't be afraid of entering the global trade environment.  There are plenty of resources to assist you.  Second, don't be afraid to make a mistake.  It's going to happen.
He explains how the world of exports will be different, but it doesn't have to be difficult.  It's a learning process.  It will challenge you, but there's a world of opportunity; literally.
EXIM Bank Success Stories
Dr. Ayyash asks Mark to share a success story of how the EXIM Bank has helped a Kentucky business.  Mark recounts a typical situation in which a company has experience growing its domestic sales.  Now, clients are beginning to move off-shore.  There's the situation where the manufacturing has gone to Taiwan, Vietnam, the Dominican Republic, Eastern Europe, Latin America or elsewhere.  But what hasn't changed is that those customers are demanding the same 30-60-90 terms.
As you might imagine, a foreign accounts receivable has to be treated differently.  Many commercial banks don't like to extend credit against foreign A/R.  By utilizing the EXIM foreign accounts receivable insurance, the A/R can now be treated as if it were a domestic accounts receivable asset, backed by the US government.  That's attractive to commercial bankers.
Once the company begins to grow its exports, working capital requirements will increase.  EXIM and the SBA have a program to provide assistance.  Over time, Mark comments how EXIM can continue to help the growing business, as well as helping the company's commercial bank.
Infrastructure Projects and the EXIM Bank
If you have a US company that wants to act as a supplier to infrastructure projects in other countries, the EXIM Bank can play an important role.  Local market conditions require local companies to ask for buyer financing.  This is fairly common in these types of RFPs.  ECA financing is a vital component of a competitive proposal.
The buyer may actually already have an ECA in place.  Mark can help the US company to understand how they will actually get paid for their products and services being exported to the foreign country.
What Area of the Country Does Mark Cover for EXIM?
Mark is based in Louisville, Kentucky.  He describes his role as a man wearing two hats.  As Managing Director of Lender Accounts, he is part of a 3-person team tasked with managing the relationships with their delegated authority lenders.  Those are the lenders EXIM works with most frequently, across the US.  Mark's also a Regional Director.  He's responsible for Ohio, Kentucky, Missouri, Southern Indiana and Southern Illinois.
To Contact Mark E. Klein
EXIM Website:  www.EXIM.gov
Mark's Information:  https://www.exim.gov/contact/regional-export-finance-centers/central-region
Upcoming WTCKY EVENTS:
The next episode of our podcast will launch on 12/11/23.  Thank you for listening.  Be sure to follow This Global Trade Adventure on your favorite podcast platform, or at www.WTCKY.com/podcast.
We hope you enjoyed Episode 6.  Our schedule is to publish a new episode on the 2nd Monday of each month.
Please consider sharing this with your colleagues.  Until next time, thank you for listening and welcome to This Global Trade Adventure.